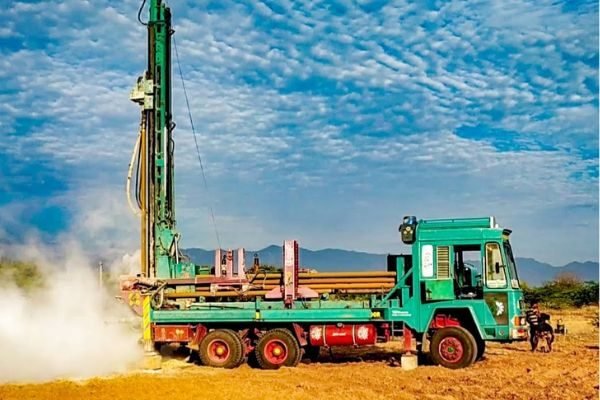 Leading organization engaged in manufacturing, supplying, and exporting a variety of Drilling Rigs. A drilling rig is a machine that makes holes in the earth's surface. The drilling rigs can be very big structures that hold equipment that is used to make water wells, natural gas extraction wells, or oil wells. There are many different types of drilling rigs.
Drilling rigs can sample subsurface mineral deposits, test rock, soil and groundwater physical properties, and also can be used to install sub-surface fabrications, such as underground utilities, instrumentation, tunnels or wells.
Our manufacturers fabricate these water well drilling rigs India as per international standards. We use advance technology to manufacture this rig to enhance the performance in drilling the surfaces. In addition to it, the production of the well drilling rig developed with the high grade iron ore materials to give the best output results for drilling purposes.
The products provided by water well drilling rig India suppliers are appreciated by our clients and is used in many industry. We deal with both standard and customized form of drilling rig. Our water well drilling rig exporters are providing these items at affordable costs to the clients.
Leading Manufacturer of water well drilling rig, hydraulic wagon drill machine and wagon drill from India. Water Well has been providing quality service and experience in all areas of water handling, storage and management systems since commencing operations. A well is a hole drilled into the ground to access water contained in an aquifer.
Providing you the best range of water well with effective & timely delivery. Open well  pump is a pump that is completely submerged in water and is sealed in an airtight fashion. Open well submersible pumps find their application in: Irrigation and gardening. Underground reservoirs/tanks in bungalows and apartments, sprinklers and fountains.
We follow standard quality measures approved by international agency, while manufacturing and supplying Water Well Drilling Rigs. These rigs are used for drilling opencast and underground mines. We manufacture these rigs using optimum quality materials, procured from the most trusted vendors. Our Water Well Drilling Rigs are made available in different customized specifications as per the clients requirements. We offer our rigs and machines at the reasonable price.
Onshore drilling is done on land and not over water. The rigs are moved in by ground transportation and many times multiple wells are being drilled from at the same site in very close proximity to each other by shifting the rig slightly. Onshore drilling profiles vary from: Shallow to deep wells.
We are assisted by a well-managed infrastructure that helps us to manufacture and supply a quality grade of Bore Well Drilling Machine. These machines are manufactured at our production unit, using high quality materials. Borewell Drilling rigs are huge bore well machines used to drill a water well, oil wells, natural gas extraction, piling for a strong foundations. Drilling rigs can be small equipment that can be manually by one person and such drilling rigs are called augers.
Geotechnical Drilling Rigs
Leading Manufacturer of the geotechnical rig from India. Geotechnical drilling is necessary to evaluate a site before the building permit can be issued. It requires specialized equipment such as drilling rigs and other drilling devices.
Frequently Asked Questions